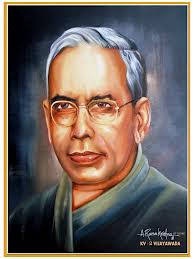 Dr. S. R. Ranganathan (

12 August 1892 – 27 September 1972)
Father of Library Science
About us:
MVP's Arts and Commerce College Library, Vadner Bhairav was established with the inception of the college in 2009. Library was established in the year 2009. The college emphasises the creation of conducive environment for teaching, learning and over all personality development. Library has an important role to play in ensuring such a conducive environment. The Library is located in the main building with spacious reading rooms and stack room. Total carpet area of the library is 475.57sq.ft
Vision
The Central Library provides value added services to the students and staff.
To create the best citizen for nation.
Mission
The Central library is committed to providing quality collections, outstanding services and excellent user education to student's staff and the community to support the college.
Objectives
To Identify the user needs regarding Information
To provide Circulation Service, Reference Service to the Students, Researchers & Staff of the college
To enrich the information services.
To support the extracurricular activities conducted by the college.
Highlights
"Auto Lib Library Management" Software for Automation.
Open Access Library
Computerized Library
Digital Facility
Internet Facility to Students and Staff
Book bank facility
Support to Students in their Project Work.
Clipping service
Support to students for MPSC/UPSC Competitive Exams.
Library cooperation with sister concern school & colleges.
Subscriber of N.List E-Resources
News paper reading facility to the stake holders